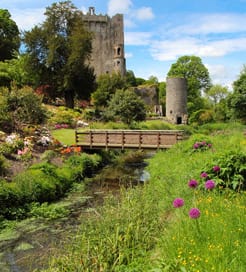 Compare ferries from Ireland to Isle of Man
There are 2 ferry routes operating between Ireland and Isle of Man offering you combined total of 3 sailings per week. Steam Packet operates 2 routes, Belfast to Douglas runs 2 times per week & Dublin to Douglas about 1 time weekly.

As the frequency and duration of crossings on some routes varies we would advise that you do a live search for crossings from Ireland to Isle of Man to get the most up to date information.
Ireland Isle of Man Ferry Map
Ferries from Ireland to Isle of Man
About Ireland:
Ireland is an island in the North Atlantic, to the West of Great Britain. The island of Ireland is politically divided between the Republic of Ireland and Northern Ireland which is part of the United Kingdom.

The region has a rather diverse landscape with a ring of coastal mountains and low plains at the centre of the island. With three World Heritage Sites, Ireland's outstanding natural beauty is of great interest to many tourists.

Ferry travel is a popular method of getting from Ireland to England, Wales and the Isle of Man across the Irish Sea. Crossings are year round, fast and operated by a variety of ferry company across a number of routes.

Despite the relatively long crossing, France is also well connected by ferry from Ireland. The ships are reasonably well appointed and as with the crossings to the UK, there are a number of operators and routes to choose from.
About Isle of Man:
The Isle of Man is a British Crown Dependency in the British Isles between the islands of Great Britain and Ireland.

With charming towns and villages, stone churches, historical castles and forts, the Isle of Man offers a journey back in time. Together with its 100 miles of coastline and long sandy beaches in contrast with rocky cliffs, this island will offer a fascinating and unique experience.