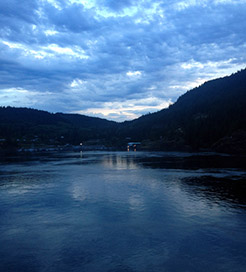 Compare ferries from Campbell Island to Canada
There are 3 ferry routes operating between Campbell Island and Canada offering you combined total of 6 sailings per week. BC Ferries operates 3 routes, Bella Bella to Port Hardy runs 2 times per week, Bella Bella to Klemtu about 1 time weekly & Bella Bella to Prince Rupert about 3 times weekly.

As the frequency and duration of crossings on some routes varies we would advise that you do a live search for crossings from Campbell Island to Canada to get the most up to date information.
Campbell Island Canada Ferry Map
Ferries from Campbell Island to Canada
About Campbell Island:
Campbell Island is in the Central Coast region of British Columbia, Canada, with Denny Island to the east and Hunter Island to the south.

Dominated by picturesque pine forest and vast lakes, Campbell Island offers the perfect scenery for hikers and nature lovers. In terms of civilisation, it is home to the largest Heiltsuk Indian Reserve in British Columbia, the native people of the region, in a village called Bella Bella on the north east coast. Set before rolling green hills, Bella Bella has a population of around 1,400, offering total tranquillity in beautiful surroundings.

Travelling by ferry is a good way to get up and down the British Columbian coast and you can sail to numerous locations from Campbell Island. The popular Vancouver Island is within easy reach to the south, as well as Prince Rupert on the mainland, which is further north.
About Canada:
Canada, the world's second largest country by total area, is in North America, with the United States to the south and Greenland to the northeast.

Synonymous with the great outdoors, Canada has a huge variety of impressive landscapes ranging from enormous mountains and glittering glaciers to eerie forests and picturesque beaches.

Spectacular cityscapes can be found in the capital, Ottawa, the cosmopolitan Toronto and the French-speaking Montreal. Within these cities, you can delve into a vibrant arts scene, enjoy a diverse cuisine or let loose at incredible music events like Jazz parties and classical repertory theatre.

If you're looking to cross the border from the United States, there are regular ferry crossings from Seattle, Washington State to Vancouver Island. Plenty of domestic routes are available along the British Columbian Coast as well, with connections between the popular Victoria and Graham Islands.