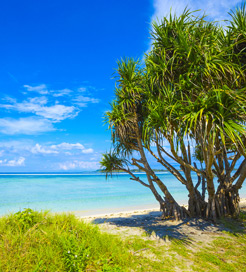 Compare ferries from Gili Islands to Lombok
There are 3 ferry routes operating between Gili Islands and Lombok offering you combined total of 21 sailings per week. Scoot Fast Cruises operates 3 routes, Gili Air to Senggigi runs 7 times per week, Gili Trawangan to Senggigi about 7 times weekly & Gili Meno to Senggigi about 7 times weekly.

As the frequency and duration of crossings on some routes varies we would advise that you do a live search for crossings from Gili Islands to Lombok to get the most up to date information.
Gili Islands Lombok Ferry Map
Ferries from Gili Islands to Lombok
About Gili Islands:
The Gili Islands are a small archipelago off the northwest coast of Lombok, an island in Indonesia.

Fringed by white sand beaches, turquoise waters and tall palm trees, the Gilis comprise three slices of paradise, all with their own unique character. Trawangan, usually known as 'Gili T', is the most popular island, famous for its funky atmosphere and buzzing nightlife tailored to the backpacking community. Gili Air offers a more traditional Indonesian feel, whilst Gili Meno makes the perfect peaceful island getaway.

Each island has superb snorkelling and diving opportunities, too, boasting some of the finest spots in South East Asia. There are also many dive operators where you can obtain PADI and SSI licences.

The Gili Islands are a popular destination for short excursions or as a stopover whilst travelling through Indonesia. From Gili Trawangan and Gili Air, there are frequent sailings to numerous ports on the east coast of Bali.