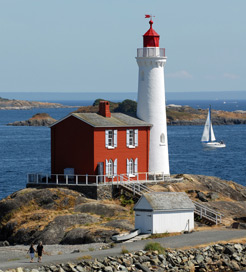 Compare ferries from Vancouver Island to Canada
There are numerous ferry crossings operating from Vancouver Island to Canada. Ferries currently connect 6 ports in Vancouver Island with 4 ports in Canada.

There are a combined number of 41 ferry crossings each day across a selection of 7 Ferry Routes which are operated by 2 ferry companies including BC Ferries & V2V Vacations with the shortest crossing taking around 1 hour 30 minutes (Little River to Powell River).

This is a general summary of the services on offer between Vancouver Island and Canada, for live information select from our Fare Search.
Vancouver Island Canada Ferry Map
Ferries from Vancouver Island to Canada
About Vancouver Island:
The British Columbian Vancouver Island in Canada is the largest Pacific island east of New Zealand, measuring 500 km long and 100 km wide.

Vancouver Island has seemingly endless amounts of untouched wilderness, with vast lakes, dense forests and incredible backdrops to be found wherever you go, making it a hiker's paradise.

To the south lies Victoria, the island's cultural hub and largest settlement which is characterised by colourful shops, quirky bars and a large network of cycling routes. Often regarded as the most English-style city in the country, Victoria has plenty to offer keen historians, with its selection of fascinating museums and iconic 19th Century Craigdarroch Castle.

Vancouver Island offers numerous crossings to various destinations, both international and domestic. You can sail to many towns on the British Columbian coast and to Seattle in the United States, so there's a great deal of choice.
About Canada:
Canada, the world's second largest country by total area, is in North America, with the United States to the south and Greenland to the northeast.

Synonymous with the great outdoors, Canada has a huge variety of impressive landscapes ranging from enormous mountains and glittering glaciers to eerie forests and picturesque beaches.

Spectacular cityscapes can be found in the capital, Ottawa, the cosmopolitan Toronto and the French-speaking Montreal. Within these cities, you can delve into a vibrant arts scene, enjoy a diverse cuisine or let loose at incredible music events like Jazz parties and classical repertory theatre.

If you're looking to cross the border from the United States, there are regular ferry crossings from Seattle, Washington State to Vancouver Island. Plenty of domestic routes are available along the British Columbian Coast as well, with connections between the popular Victoria and Graham Islands.