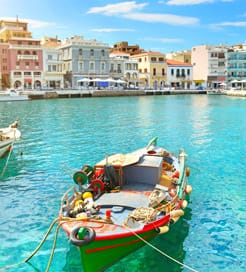 Compare ferries from Crete to Dodecanese Islands
There are numerous ferry crossings operating from Crete to Dodecanese Islands. Ferries currently connect 2 ports in Crete with 5 ports in Dodecanese Islands.

There are a combined number of 23 ferry crossings each week across a selection of 10 Ferry Routes which are operated by 2 ferry companies including Anek Lines & SeaJets with the shortest crossing taking around 1 hour 25 minutes (Sitia to Kasos).

This is a general summary of the services on offer between Crete and Dodecanese Islands, for live information select from our Fare Search.
Crete Dodecanese Islands Ferry Map
Ferries from Crete to Dodecanese Islands
About Crete:
Crete is the largest island in Greece situated in the southern Aegean Sea, boasting a wealth of gorgeous harbours, beaches and hilltop towns.

Not only is the natural landscape filled with stunning backdrops, the wonderfully unique culture, cuisine and history are inescapable too.

You'll come across awe-inspiring palaces, Renaissance buildings and picturesque Venetian ruins. Or you may spot some locals performing Cretan dances and playing music using stringed instruments called lyres and laoutos, offering a Greek island experience like no other.

Crete has a number of excellent ferry ports along its north coast, and, thanks to its location in the southern Aegean, offers numerous routes to the other Greek islands and Athens to the north. This makes Crete an excellent departure point for exploring both the country's mainland and many beautiful islands.
About Dodecanese Islands:
The Dodecanese Islands in the Southeastern Aegean Sea is a group of 12 large islands and numerous smaller ones, located close to the West coast of Turkey, in the sunniest corner of Greece.

The islands boast crystal clear waters, sandy or pebbly beaches, Byzantine and medieval monuments and unique traditional settlements. Its historical capital Rhodes not only offers beautiful beaches, its also a magnificent old city full of beautifully preserved medieval treasure.