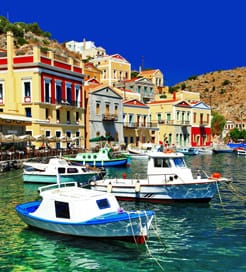 Compare ferries from Greece to Skopelos Island
There are numerous ferry crossings operating from Greece to Skopelos Island. Ferries currently connect 2 ports in Greece with 2 ports in Skopelos Island.

There are a combined number of 32 ferry crossings each day across a selection of 10 Ferry Routes which are operated by 5 ferry companies including Sea Jets, Hellenic Seaways, Golden Star Ferries, Anes Ferries & Aegean Flying Dolphins with the shortest crossing taking around 15 minutes (Skiathos to Glossa (Skopelos)).

This is a general summary of the services on offer between Greece and Skopelos Island, for live information select from our Fare Search.
Greece Skopelos Island Ferry Map
Ferries from Greece to Skopelos Island
About Greece:
Greece is a country in Southern Europe with the 11th longest coastline in the world, sharing borders with Albania, Macedonia, Bulgaria and Turkey, and with islands in the Aegean, Ionian and Mediterranean Seas.

As one of the world's most popular tourist destinations, the country's fabulous beaches, whitewashed homes, historical sites and favourable climate attract huge numbers of visitors to its islands year round, though the majority arrive between April and October.

Whether you arrive on the mainland by sea or by air, the majority of islands can only be reached by ferry. With the number of services on offer, as you may expect, Greek ferries are of a high standard and most ferry companies feature a modern and luxurious fleet. All Greek islands are linked to the mainland, some directly, some indirectly and island-hopping is great experience, not to be missed.

Due to being a gateway to the islands, the Greek mainland is well connected to Italy across the Adriatic Sea too.
About Skopelos Island:
Skopelos is a Greek island in the western Aegean Sea, in the Northern Sporades archipelago within the Thessaly region.

Shaped like a saxophone, Skopelos is one of the most charismatic islands in Greece, mostly known for setting the scenes of the Hollywood film, 'Mamma Mia' in 2008. Two of the standout settlements, Skopelos Town and Glossa, offer terracotta-topped, white-washed houses amongst steep, beautiful slopes, affording wonderful panoramic views of the Aegean. The nation's hub for wine production in Ancient times, Skopelos is, today, one of the country's greenest spaces, with pine-clad hills, countless olive groves and bursts of colour from flowers lining the narrow, cobbled streets.

Like most Greek islands, it's easy reach to Skopelos by ferry, with plentiful domestic crossings on offer from the surrounding islands and mainland cities. The routes are operated by leading Greek operators, with some journeys last just ten minutes.